Results-Driven
Social Media Marketing
Services
Don't just engage followers. Convert them into loyal customers. Our social media marketing services make an impact where it matters most—the bottom line of your income statement!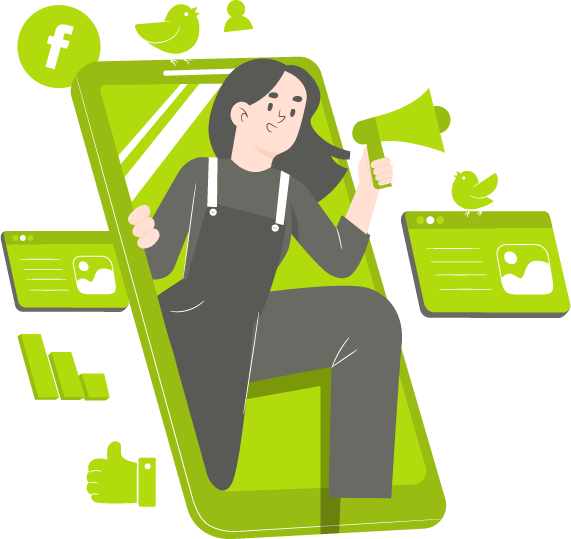 Push Your Business into Hyper-Growth
Social Media Marketing
By conducting well-thought-out multi-channel social media campaigns that go viral, we get you the leads, sales, and brand recognition that your business needs to grow exponentially.
Call Now
Achieve Your Goals Every Time
You are a socially engaged brand, but are those likes and shares converting into leads and sales? Or, maybe, you don't have enough likes and shares or even social media profiles. Whatever your goals, we can get you there on the fast-track.
What good are a thousand likes if you have no sales?
We believe social media marketing must translate into leads, sales, repeat customers, and long-term profits.
Social media is just a buzzword unless you have a strategy. We translate your ambitions into goals and plans and create a well-rounded strategy that helps you dominate the top social media networks.
Customer Discovery: We use cutting-edge technology to discover your customer, their likes and dislikes, media habits, and more.
Channel selection: Conduct a data-driven selection of the top social media channels based on your customers' media habits.
Content strategy: Design a cross-channel content strategy grounded in your customers' likes and dislikes, opinions, and the topics they care about.
Each social network is unique in terms of user behavior, audience, and goals. So, we create channel-specific content while maintaining a consistent TOV and branding across multiple channels.
Profile Creation and Optimization: Create and complete your business profile on each channel you're targeting.
Content Creation and Publishing: Share powerful visual and text content that relates to your audience and brand.
Community Management: Respond to comments, answer queries, and develop an engaged community.
Drive interested customers from social networks to your website and feel the kick that social media can provide. This is where it all comes together!
Sponsored Campaigns: We plan and run laser-targeted campaigns that deliver hot leads and huge sales.
Influencer Marketing: We reach out to the most cost-effective influencers and get them to endorse your brand.
Special Offers: Design thoughtful special offers and channel-specific campaigns to engage and convert customers.
Thanks to the latest technology, we can track the performance and results of your social media campaigns on a granular level, and provide accurate attribution for calculating your RoI.
Insights Monitoring: Track social media insights and make adjustments to sustain and improve performance.
Monthly Reporting: Report monthly results in the form of a cohesive and actionable report.
Social Listening: Minitor what your customers are saying about you and your competitors and refine your strategy.